HSEQ
Health, Safety, Environment and Quality (HSEQ) Standards
We don't compromise on safety.
Health, Safety, Environment and Quality are essential components of OTOC Australi's platform and OTOC Australia maintains accreditation in these areas. By fulfilling this challenge, OTOC Australia is able to streamline Health, Safety, Environment and Quality processes to ensure continuous improvement and a harmonised approach to keeping our people safe, the environment protected and the quality of our service delivery at an industry leader standard - whilst striving towards the ultimate goal of Zero Hurt, Harm, and Error.
CERTIFICATION
Quality Management Systems ISO 9001:2008
Environmental management systems ISO 14001:2004
Occupational health and safety management systems AS/NZS 4801:2001
OTOC Australia also maintains accreditation to the Federal Safety Commission Accreditation Scheme and due to high level compliance, was awarded re-accreditation in 2016 for the maximum allowable period of 6 years.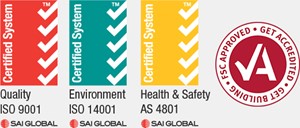 We have also signed a channel partner agreement with Nokia, a global leader in mobile and fixed networks. You can read all the details here.